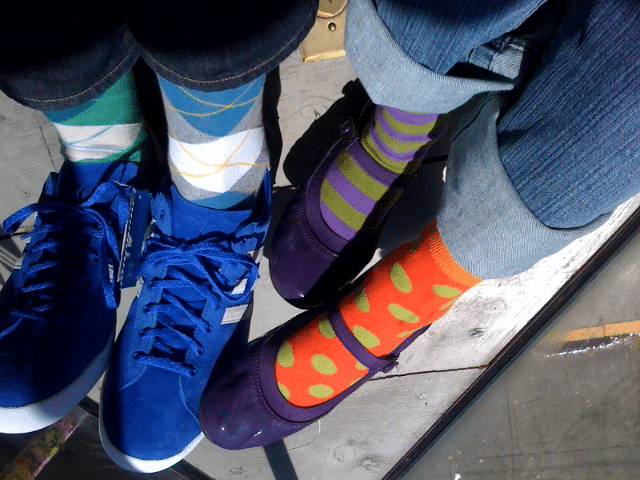 "Look at my socks!", "Cool!  Look at my socks!"   I heard these words over and over again last year on March 21st, when I hosted our first ever Crazy Socks Day in celebration of World Down Syndrome Day at my daughters elementary school last year.   As soon as I walked into the school building, the kids were over the moon excited to show off their crazy, mismatched, brightly colored socks.    Why crazy fun socks you ask?   Down Syndrome International created this idea to highlight the idea that everyone has their own different and colorful abilities.   That people with Down syndrome must be able to enjoy full and equal rights, with 'opportunities' and 'choices'. Many face challenges to this, as others fail to understand that people with Down syndrome are people first, who may need support, but should be recognized on an equal basis, without discrimination on the basis of disability. Empowering families to recognize the equal status of their members with Down syndrome is crucial, so that they can provide support, advocate for opportunities and choices and empower people with Down syndrome to express their own views and make their own decisions, as well as advocate for themselves.  March  21, 2015 marks the 10th anniversary of World Down Syndrome Day (WDSD) and each year the voice of people with Down syndrome, and those who live and work with them, grows louder.
The flyer I created this year reads:   "ROCK YOUR SOCKS!!!   Join us by wearing brightly colored, bold and mismatched socks, as we strive to create a single global voice, advocating for the rights, inclusion and well-being of people with Down syndrome in our community and around the world."   Additionally, my husband and I purchased the World Down Syndrome Day logo wear to wear on that day at: https://www.worlddownsyndromeday.org/lots-of-socks.
In addition to having the kids wear their crazy socks, we asked for a $1.00 optional donation to support their  PTO and local Down syndrome organizations!   Kids were all over this and we raised almost $400.
In closing, our children are so excited to repeat the event this year.    Our daughter is in middle school now.  She is owning this experience by walking around her middle school putting up the flyers and by working with the News Club to come up with some other posters and morning announcement ideas to spread the word and generate excitement!
You can easily do this in your district too!    All it requires is a simple phone call or email to your principal to get the ball rolling.  We have found all school administration to by open and more than happy to spread the word!  So go out and find some crazy fun socks for you and the kids and contact your administrators!
Photo: Coley Cheng
https://321foundation.org/wp-content/uploads/2015/02/socks.png
480
640
Renee Vekiarides
https://321foundation.org/wp-content/uploads/2020/05/3-21_Foundation_Logo.png
Renee Vekiarides
2015-03-21 18:49:25
2015-05-14 17:39:14
Rock Your Socks!